Soothe Your Work-From-Home-Woes With CBD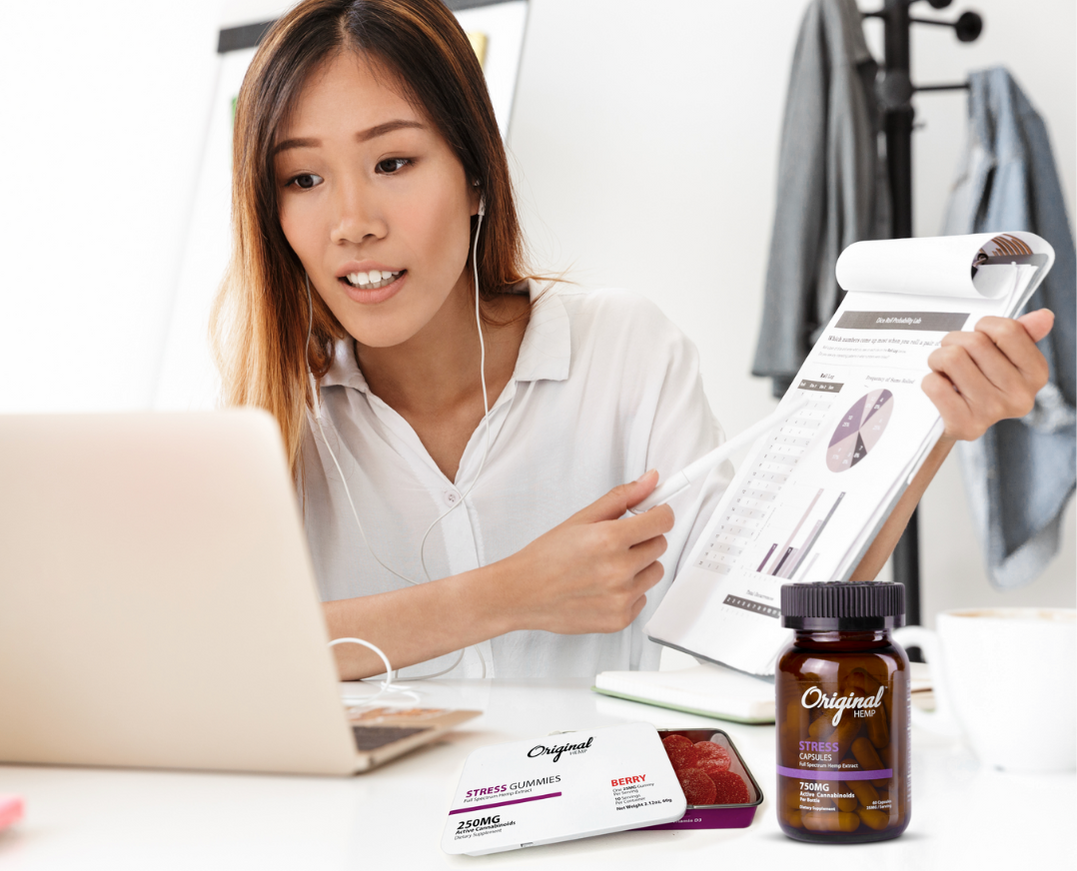 Working from home can be both a blessing and a curse. While it's made things a lot easier – no commute, less office distractions, a pleasant decrease in unnecessary face-to-face meetings – the uglier side of having your workspace smack dab in the middle of your sanctuary has come to light.
If you're working from home today, get 30% off your entire Original Hemp purchase with code WFH30.
We know workplace stress easily translates to the home office, but what about those new aches and pains from that home office chair that just doesn't seem to cut it, seeing as you're in it for much longer periods at a time?

And raise your hand if you too have been carrying around a constant fatigue from feeling like work never ends, since the line between "home" and "work" has now essentially been grayed out?

Even getting undue anxiety from the inevitable video calls, and an increased stress level from that incessant pressure to perform "extra" so everyone knows you are actually working.

A good chunk of the work-from-home-workforce has been quietly suffering, perhaps not even realizing there is a way to relieve some of the woes that seem to just come with the territory.

Here's where CBD can help!

CBD – or Cannabidiol – is a naturally occurring non-psychoactive cannabinoid found in the hemp plant that works together with your Endocannabinoid system (or ECS) to help regulate important processes within the body, like send out sleep signals so your body can rest and recharge, fight inflammation and identify pain, and even manage your mood.

Your ECS serves to provide homeostasis in your body, and the interaction with CBD can help stimulate these processes to maintain balance and enhance your overall wellness.

The short story is: CBD is not just for "chilling out" but can address work from home wellness concerns in a variety of ways, especially when taken regularly.

So where to start?



These days CBD is everywhere, and you are likely to be flooded with random mom-and-pop shops hawking their oils at you. However, be wary! A lack of transparency when it comes to third-party lab testing and failure to provide details on extraction method and quality is a serious red flag.

Original Hemp is one of those unicorn brands that has firmly rooted itself into the Wellness niche by taking CBD and pairing it with clinically-researched ingredients – developing products that actually target specific needs such as sleep, stress and pain.

On top of that, their products go through several rounds of testing by an independent 3rd-party laboratory which has over 20 analytical tests to ensure clean, quality, safe and verified products. You can view and download copies of the official lab results for each CBD product they sell right on their website.


Incorporating CBD in your workday routine is easy.
Using CBD to find Relief is by far the most popular usage. Investing in a complete product line that is designed to target aches, pains, and inflammation and which contains other beneficial ingredients such as Turmeric and Boswellia Serrata Extract in addition to non-psychoactive Full Spectrum Hemp Extract is your best bet to finding something that will actually target your specific needs. Together with a roll-on topical, which comes in a variety of sizes, you can find relief from the inside out to help your body relax.

Sleep capsules are designed to help you establish and keep a healthy sleep routine. Specifically addressing that lack of sleep which impairs your ability to rest and recharge both physically and mentally, and which can cause even more tension as well as a proneness to stress factors. The best ones are formulated with PharmaGABA, melatonin and of course that all important full-spectrum CBD to really hone in on the elements that will benefit rest and sleep.

Manage daily stress and anxiety while enjoying a Stress Gummy break! Gummies that contain a whopping 25mg Full Spectrum CBD will keep you balanced and finding your inner Zen, without the need to keep popping 'em like candy to feel the benefits. It certainly helps when they taste great, too.

Finally, Water Soluble CBD is one of the best options for getting those CBD benefits when you need them most. The natural state of CBD is that of an oil, which – as you may know from science class – does not mix very well with water. Water Soluble CBD has been developed as an easy to dissolve CBD mixer (although you can still take it sublingually if you prefer) that is more easily absorbed by your body and so has more bioavailability. Just drop it into your morning cup of joe, lunchtime smoothie or even in a cocktail after work! The possibilities are endless.
CBD can be the natural, wellness solution you need to help you manage your work from home regimen. Don't be afraid to try different methods until you find what works best for you!


---